说明:最近我接受了《环球时报》英文版有关ACG旅游这一主题的采访。本文及图片就是综合了对我以及另外几位受访者介绍后的成文内容。转载自:http://www.globaltimes.cn/content/962164.shtml。
ACG-themed tours take off
By Chen Ximeng Source:Global Times Published: 2016-1-6 19:43:01
Enthusiasts seek real-world locations featured in their favorite fantasies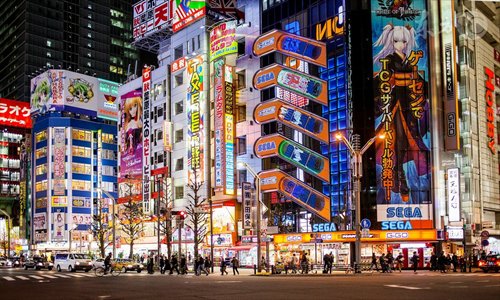 Akihabara in Tokyo, Japan, is a hub for all kinds of anime and manga products and activities, and one of the most popular places for ACG tourism. Photo: IC
Huang Yeqiang, a 28-year-old office clerk at a university in Shanghai, remembers the excitement and spiritual pleasure he felt when he first visited Enoshima, a small island in Kanagawa, Japan, one of the locations featured in Memories Off 2nd, a famous Japanese gal game.
"Visiting this place gave me a strong sense of immersion. I felt like I revisited a place where I once lived [in the game]," he said.
Huang has been to Japan seven times to participate in various animation, comics, and games-related (ACG) activities and visit the real-world locale of scenes from some of his favorite anime and games. To him, each visit is a "pilgrimage."
Enoshima is just one of the real-world locations featured in popular ACG works that are seeing an increase in tourism due to visits from gaming and fantasy enthusiasts.
No longer satisfied with living their fantasy in a "two-dimensional space," ACG lovers are actively creating their own travel packages to destinations in Japan, the US and Europe to experience the locale of their favorite fantasy firsthand.
With some ACG works featuring places in China, the country has also started to attract ACG fans to the locations.
Fantasy meets reality
Huang said the reason for his ACG "pilgrimage" is very simple – first hand knowledge.
"I just want to have a look at the real places where I once lived in the game. I need to use all my five senses to feel the local life of the locations," he said.
When Huang visited Enoshima, he found a seaside island where it rains constantly. The journey gave him a deeper understanding of the dialogue in the game because he finally understood why the question "When will the rain stop?" is asked so often in the game.
"In the games, the imagination is limited. But being there, I got more deep feelings," he said.
When Huang sat on a bench facing the Pacific Ocean at the Kamakura Koko-mae Station in Kanagawa, one of the locations featured in Memories Off, Huang thought of the Hamasaki High School anthem from the game, "Wide ocean, high sky, the seagull sings a clear song."
"At that time, I had a more direct feeling of the youthfulness in the game," he said, adding that aside from visiting the various spots, he also gets a chance to learn more about the cultures that gave rise to some of his favorite forms of entertainment.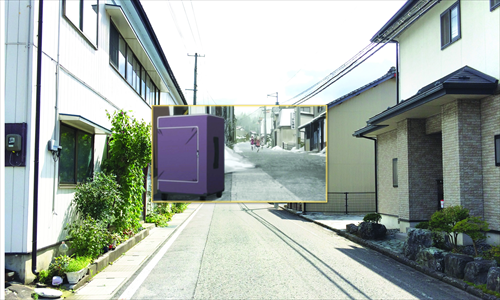 A scene from Saki (2006), a famous Japanese anime, superimposed on a photo of the same scene in Iwate, Japan. Photo: Courtesy of Kamikamu
A fledgling community
For Kamikamu (pseudonym), a 25-year-old Chinese student who loves ACG tourism, one of the greatest pleasures of ACG-focused tours is finding rarely-visited real-world locations where one can take never-before-seen pictures, share them with other fans, and compare them with reality.
She said recent years have seen a rapid rise in ACG-themed tours and the expansion of the community in China.
Catering to the increasing demand from ACG tourism lovers, bilibili.com, a website that draws millions of ACG fans, launched a new service called Bilibili Yoo last May to organize ACG-themed group tours in Japan.
The biggest feature of the community is its self-generated content which makes it easy to form a group.
"ACG lovers have their own language, values, behaviors and concepts, and they like to make their own creations, so we can easily form a group and have many common languages during the tour," said Kamikamu.
She said the iconic locations that appear in anime are usually quite easy to identify, but the lesser-known areas are difficult to find. On many ACG "pilgrimage" websites, enthusiasts contribute their own findings including new routes or disappearing locations, which further helps to attract more people.
After Kamikamu posted her travel stories from lesser-known places such as Iwate, the location featured in Saki (2006), many Net users expressed their excitement at seeing almost the same scenes from the fantasy in real-life and asked her how to get there.
That is where the attractions of anime tour lies, she said.
Although some places have already changed or disappeared, Kamikamu said there are always new and surprising places waiting to be discovered.
Zhang Yuan, a 32-year-old teacher in Beijing who loves Disney and Marvel animations and comics, has been to many places in America and Europe. Zhang visited Disney World in Orlando, the Avengers S.T.A.T.I.O.N., a Marvel-themed exhibit at the Discovery Times Square Museum in New York City, and the house of Edith Macefield in Seattle, the prototype for the home of the main character in the popular animated film Up (2009).
Zhang thinks that compared with going on ACG tours in Japan, visiting scenes from American ACG works offers a different experience.
She said she was quite moved when visiting the house of Edith Macefield in Seattle, which lies in a line of high-rise buildings.
In reality, Macefield was a woman who fought with real estate developers. Her refusal to let developers demolish her home ultimately forced them to build around it.
"I think American animations are more encouraging with a power of pursuing one's dreams by overcoming difficulties, which gives me a different feeling when I 'revisit' the locations," said Zhang, who hopes to see more ACG-themed exploration sites developed in China.
ACG-themed tourism in China
China is also one of the increasingly popular places that are featured in ACG works which attracts ACG enthusiasts. However, tourism experts think that there is still room for development in China's ACG tourism industry.
Wu Guanhao, a man from Wenzhou, Zhejiang Province, recently got feedback from the Japanese author of One Piece (1999) corroborating that the east tower of Jiangxinyu Island in Wenzhou is one of the locations featured in the anime, sina.com reported on December 27.
Wu said in the report that four years before, when he visited Jiangxinyu Island, he found that a scene of the east tower was quite like the one in the anime and sought confirmation from the author.
The creator said he gets inspiration from reality and visits different locations for his works. He loves China's scenery and kung fu, and he made the island the location for CP9, an intelligence agency in the anime.
After the confirmation was published, the report said that many One Piece lovers flocked to the island for pictures.
"Many places such as Shanghai and Hong Kong in China, and places in Europe appear in Japanese ACG works," said Huang.
Li Yang, an animation producer with 16 years of experience, is working on a cartoon series that is set on the Puzhehei scenic area in Yunnan Province. He hopes the series will attract more people to the area.
"Zhangjiajie is known by more expats as it is one of the locations that appeared in Mulan (1998). I think if the works are great and the local government provides some support, tourists sites can become popular spots for ACG fans in China," said Li.
Lou Jiajun, director of the tourism department at East China Normal University in Shanghai, told Metropolitan that the ACG subculture is a very useful channel for tourism development as Chinese young people are increasingly influenced by the subculture and tend to go on ACG-themed tours.
"Now Japan is the hot spot for ACG-themed travel due to its developed ACG industry, but for China, it will take at least 10 years to develop this industry and ACG-themed tours," said Lou.
The opening of the Shanghai Disneyland Park this year and the Universal Studios theme park in Beijing in 2019 will speed our way toward the development of ACG-themed tours, he said.
Top ACG-related destinations:
Akihabara, Tokyo, Japan (ACG-themed products and activities)

Kanagawa, Japan (locations featured in Slam Dunk, Tari Tari)

Tokyo Metropolitan Police building, Japan (featured in Conan series)

The house of Edith Macefield, Seattle, America (featured in Up)

Geneva, Switzerland (featured in The Adventures of Tintin)
Source: Huang Yeqiang, Li Yang, Kamikamu and Zhang Yuan
Posted in: Metro Beijing